The employees of Global Trade Co understand that the best way to ensure the prosperity of your business is to keep your machinery and equipment in working condition. You must be 100% sure that it will not let you down. As a distributor of a leading global lubricant manufacturing company, we know that this requires much more than just a great product. First of all, Global Trade Co experts will evaluate the condition of your equipment and after that they will be able to give you recommendations on the rational use of lubricants, which will allow you to reduce operating costs. World-class technical support and services will help you increase operating efficiency, reduce costs and get the most out of your equipment.
Choose Shell Oil with the Shell LubeMatch Online System
For customers who want to monitor the technical condition of their equipment, we offer Shell LubeAnalyst – a service that clearly illustrates the current state of the lubricant and equipment, reduces equipment downtime, as a result it avoids a decrease in profitability, allows you to detect potential equipment problem points on early stage, reduces repair costs and can potentially extend the intervals for oil change and maintenance. Shell LubeAnalyst is a comprehensive laboratory lubricant analysis program that is designed to monitor the condition of equipment in order to increase its efficiency and reduce maintenance costs.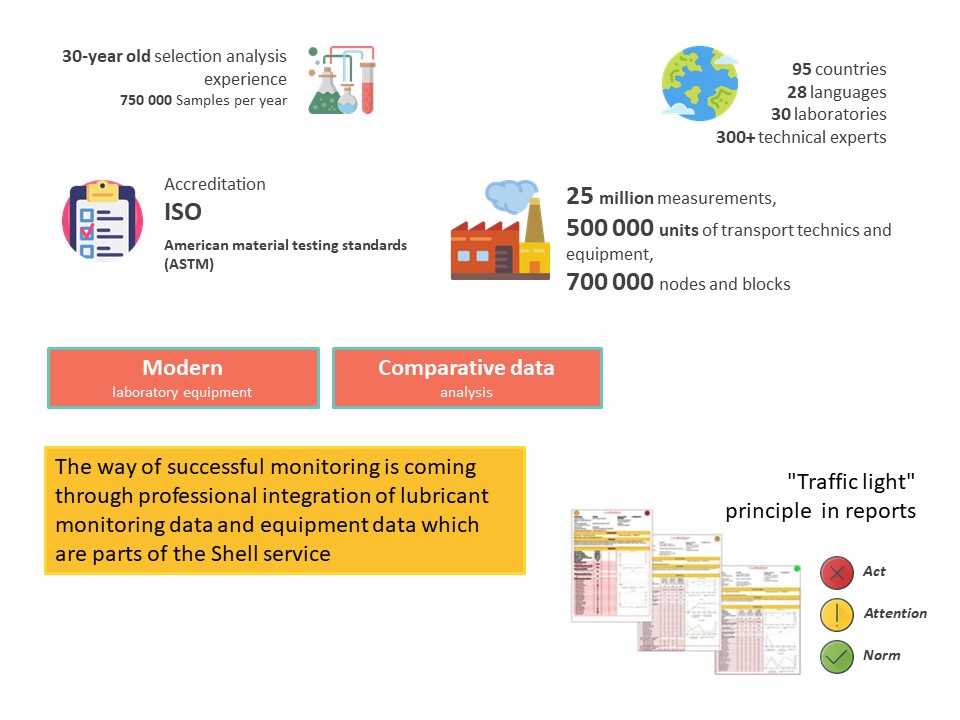 We provide training on issues such as the storage and handling of lubricants, the purity of lubricants, the lubrication process and the use of lubricants.
We provide technical advice, give recommendations on handling basic products, and also help solve problems associated with troubleshooting equipment related to lubrication.

For customers who want to determine the condition of internal combustion engines, we offer Shell LubeVideoCheck – a service that, using a modern industrial endoscope, shows the technical condition of the main engine parts and how the use of motor oil affects the wear rate. An endoscope is an apparatus in which obtain an image of the internal parts of the engine – a combustion chamber – an optical fiber cable is used which transfers a high-quality image from a miniature video camera to a large screen with image capture, allows you to evaluate engine parts without parsing it. Based on these data, a subsequent analysis of the engine state and a conclusion on the quality and application conditions of the current lubricant are carried out. Engine analysis is a long and expensive procedure, and we offer Shell LubeVideoCheck engine diagnostics service free for our customers, because this is part of our customers' technical support program

We procure and install equipment for storage and dosing of lubricants.